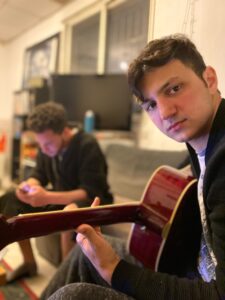 My name is Ben. This website began because I came across a song (see the first blog post here) and instantly texted my friend that he had to listen to it. I jokingly told him that it was being called the "best song of 2020" in order to convince him to listen. He informed me that the song wasn't even released in 2020, so there was no way it could be the song of the year. But, he still asked me to send him a link to the website of where I saw that "best of 2020" announcement as proof. A few hours later, I sent him this link…
What is Song Per Day?
Song Per Day is changing your day with one song recommendation.
There's a big problem:
The world is cluttered with tons of music
Algorithms show you thousands of new songs all the time
In most cases, we are being fed music SIMILAR to what we already listen to.
This is great, but it means we are missing out on the opportunity of finding music that we would have never imagined.
So… here's what we're doing:
Each day we will post 1 song recommendation
You can come to this website (or sign up for the Newsletter below) to see the song
It could be in ANY genre
But…
No matter what, you should listen to the song.
You may love it, you may hate it.
It may be a song you know already or it may be a song you never would have even considered listening to before.
But it's not a big commitment. If you give it a shot you may be surprised.
One song can change your day.